The Authors
Aanyah Abdullah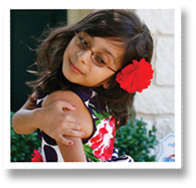 Aanyah Abdullah is a creative and compassionate child who is drawn to children born with physical and mental disabilities. When she was in second grade, Aanyah along with her mother Shaila, started volunteering out at a local community center where they helped assist special needs children. Later Aanyah wrote an essay about her friendship with a girl in the class who had cerebral palsy. That essay is the inspiration behind My Friend Suhana. Aanyah dreams of establishing a special school for children with disabilities one day. She is known to always stand up for what is right and is-–in her parents' and teachers' eyes––a perfect role model for her baby sister.
As a first grader, Aanyah was honored by USCIS for her artwork on"We Are America," and was featured on the local TV news channel. In 2014, Aanyah won the Young Writers Contest held by Austin Family magazine for her essay about her friendship with Suhana. In January 2016, My Friend Suhana won the prestigious Dolly Gray Children's Literature Award. and the same month Aanyah was featured on KVUE TV and KUT for its Texas Standard program.
In 2015, Aanyah invented a unique vibrating vest with sensory patches for her friend Suhana. For this piece of work and her voluntary service to the disabled community, Aanyah received the Prudential Spirit of Community Awards Certificate of Excellence and President's Volunteer Service Award in 2016. Soon after, Aanyah received the KVUE Five Kids Who Care Award and was featured on the KVUE channel again.
Shaila Abdullah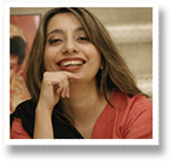 Shaila Abdullah is an author and designer based in Austin, Texas. She is the author of two award-winning books: Saffron Dreams and Beyond the Cayenne Wall. The author has received several awards for her work including the Golden Quill Award, Norumbega Jury Prize for Outstanding Fiction, Patras Bukhari Award for English Language, Reader Views Award, Written Art Award, and a grant from Hobson Foundation. Several academic institutions have adopted her books as course study or recommended reading, including the University of California, the University of Nebraska-Lincoln, Indiana University, Boston University, California State University, and George Washington University. My Friend Suhana is Abdullah's first children's book. In her free time, Abdullah loves to run around with her children–Aanyah and Aaliyana.